Olivia Augustus joined our family on Saturday, September 16, 2000 at 10:44 AM. The day was a bright, sunny, crisp autumn day, with the temperature in the high 50's – low 60's. Her birth was very quick and easy, after a few minor complications.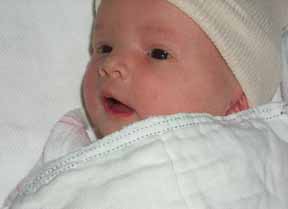 Olivia weighed in at 7 pounds, 11.5 ounces and was 19.5 inches tall. She resembled her daddy through and through from the moment she was born. She had all of her daddy's features and had very long slender fingers, like her daddy. The only feature in question was whose nose did hers resemble the most.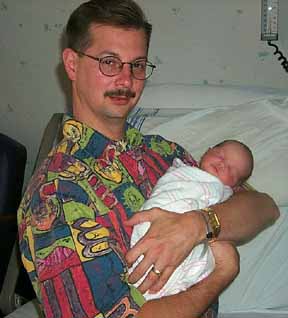 It took us over three days to determine our baby girl's name. We had to spend time with her and get to know her to see what name would be best suited for this precious little angel brought into our lives. The name Olivia seemed to resonate over and over.
Olivia means Peace. It is of the Latin origin OLIVA and Greek origin ELAIA. The definition of Olivia is Branch of the Olive Tree … a symbol of Peace. Furthermore, Olivia is the female form of the name Oliver. The name Olivia was first found in the early 13th century and was used by Shakespeare in the Twelfth Night. Olivia, in the Twelfth Night, was a rich countess.
Olivia's middle name, Augustus, had already been predetermined … approximately when Linda was 7 months pregnant. Augustus actually came to be by 4 different calculations.
1.) Olivia's grandparents, Gary's parents, Audrey and Gust, names' syllables combined were Au and Gust for August.
2.) Olivia's grandfather, Linda's father, August, who passed away in 1969, was named August Ferdinand.
3.) Gary's paternal great grandmother's last name was Gustus.
4.) Gary's middle name is Gust.
All combined came to be Augustus, which has numerous meanings.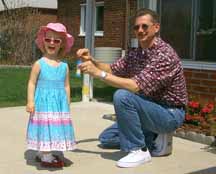 Augustus is of Latin origin. It was the name of the first great Roman Emperor. Augustus means revered, exalted, majestic or venerable. All of these meanings describe our little Olivia. The peaceful, majestic, revered, and venerable little girl she was, and, so full of life and love for everyone.
Olivia truly lived up to her name for the 31 months, 1 week, and 1 day she was with us physically … she was a very peaceful soul, from the morning of her birth to the morning of her having received her Angel wings. She now walks amongst us in spirit, love and remembrance.