The first time ever, May 3-4, 2004, an exhibit of over 1,000 hats was on display around the Senate Garage Fountain in Upper Senate Park in Washington, D. C. to honor and memorialize those affected by a cancerous brain tumor. Of the 1,000+ hats, there was one in the crowd dedicated to Olivia. Naturally!!! The organizers saw Olivia's hat and included it as part of their photo album.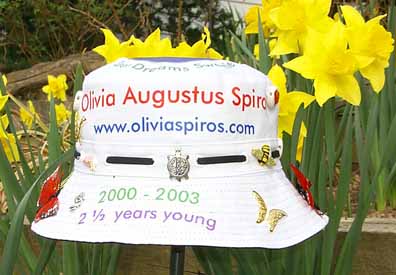 A maverick woman has taken it upon herself to create awareness of cancerous brain tumors; Ms. Kris McAlvanah of Zephyrhills, Florida, is onto something very exciting. Just like the AIDS quilt creates awareness for those who have passed of AIDS Ö the Hat Project will create awareness of those living or deceased from a cancerous brain tumor. She has requested everyone affected by a brain tumor to send a hat in honor or memory of the person diagnosed.
We all know Oliviaís enjoyment in wearing any one of her 20+ hats; she enjoyed choosing her hat for the day and she knew she was so very special while wearing any one of her hats. It was very natural for us to create one for Olivia. Actually, during the process, we thought, why didnít we create one before, so Olivia could have enjoyed it, like all the hats her grandmother Jaak had made for her.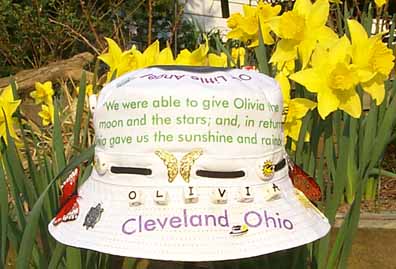 Of course, we could not just send any hat ... we had to send a special hat. For us, it was a very enjoyable and creative process.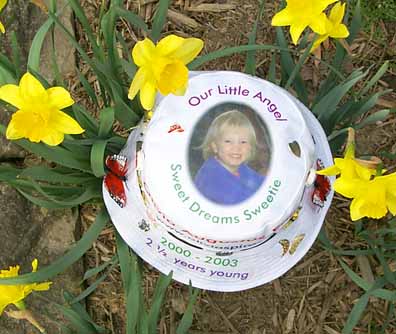 Olivia would have been so very proud of this hat. We are so very proud!